Day 62 (Week 9, Day 6) - Friday 3rd March 2017
We had a nice new place to read today - the library! Usually we read at home before bed or first thing in the morning, but Josh and Xander came in with their Gran to visit meat work in the afternoon after school, so we took the chance to read our books for the day there instead!
There's not many better places to settle down and enjoy reading a book together than your local library!
1)
King Jack & The Dragon - Peter Bently (Author) & Helen Oxenbury (Illustrator)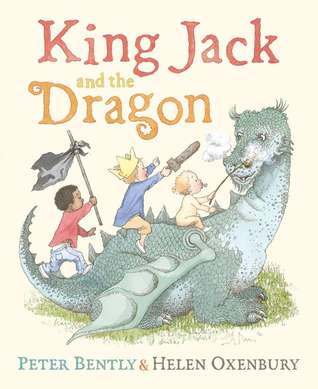 Ah, the fun of being knights on adventures to slay dragons and beasts! Is there anything better ingrained in the imagination of every child? Reading this brought back fond memories of playing such adventures when I younger! It was difficult to stop Josh & Xander getting up and trying to slay dragons whilst we were reading this, so they clearly felt it did a good job of entertaining them.
What was particularly good, I thought, was how the three children in the story were gradually picked up and taken home by parents, until one last hardy adventurer remained outside refusing to end his fun, which is possibly the most realistic depiction of what it's like trying to end playtime! I remember the feeling well of not wanting to stop when I was little.
Great story, great rhymes, great illustrations, great time!
Josh says: I like when they fought the dragons.
Xander says: I like the dragons!
2)
Dinosaurs Don't Have Bedtimes! - Timothy Knapman (Author) & Nikki Dyson (Illustrator)
It's safe to say that before you reach adulthood practically no-one likes bedtime, so it's no surprise to read about grizzly grumpy dinosaurs not enjoying it either! In this story, we have the fantastically imaginative tales of a boy pretending to be a dinosaur and refusing to go to bed for all manner of reasons, coupled with hilarious images of him as a dinosaur doing the same things. It's utter chaos (just like real bedtimes!) and delightful for it, as the patience-of-a-saint mother let's her son's imagination run wild as she gently steers him to bed - if only I could always feel this calm with it all!
We really love the colourful and exciting illustrations, perfectly capturing the fun that the boy and his dinosaur counterpart were having, and making the children giggle at everything they got up to.
A really fun book for laughing out loud with your kids that reminds us how getting ready can be more fun than stressful.
Chris says: Getting stressed out with bedtimes happens to every parent, so stories like this are important for helping us to try and think of ways of making the whole process more enjoyable. We love reading books before bed, obviously, but I'd certain love to feel that the actual getting to sleep part was more like the fun in this book than it can be at times!
Josh says: I like the fact that he did all the things wrong when he should have been getting ready for bed!
Xander says: ROARRRRRR!
3)
There are NO Cats in this Book - Viviane Schwarz (Author & Illustrator)
We've the other two books in Vivian Schwarz's
There are...
series, and loved both of them, so it's no surprise at all to tell you that this went down just as well! It's so much fun reading a book where you really do feel like you're playing with the characters, particularly when they're completely adorable cats being utterly daft. The kids always love the added bonus of the flaps too, though we have to remind Xander not to lift them with
too
much enthusiasm if he wants to read the story properly ever again.
The idea of them wanting to go off on an adventure to see the world outside of the book is possibly my favourite instance of the fourth wall being broken in a story, because it's a perfectly reasonable thing for characters in a book to want to do if they're aware that they are in fact in a book! Viviane Schwarz's stories are so wonderfully creative that as soon as I find one we haven't read yet in the library then it's immediately picked up and checked out ready for that evening.
We can't wait for a fourth book in this series, so let's hope there is one soon!
Chris says: It's always a proper 'Yesssssssss!!!' moment when you find another book in a series that you love, by an author that you love. I love too that the kids have that feeling just as much as me - it shows that authors are doing we like most about them; inspiring children to read!
Josh says: I love how silly the cats are.
Xander says: Lots of cats!

So, to summarise Day 62...
A lovely afternoon of reading in the library! Adventures with dragons, dinosaurs without bedtimes, and cat's escaping from a book. Wonderful imagination in the world's best place to inspire it!
All picture books inspire our children's imaginations, whether it's a 'real' story with a moral behind it or a counting book, but I always love to share books with Josh & Xander that get them imagining something with a fantasy element to it - fighting dragons, pretending to be dinosaurs, and talking directly to cats in a book are all things that give us ideas for playtimes in the future, with limitless potential for crafting them in our own design, so thank you to all the wonderful authors and illustrators who help us in this way!

Books Read: 130/1000 (13.0%)