Day 3 (Week 1, Day 3)
Looked forward enormously to Day 3 of the Picture Book Challenge. We're still going through books that we already have at home, whether we checked them out from the library recently or we've been given them for Christmas, and we'll be doing that for a little while still, but before too much longer I'll be making regular runs of library shelves!
Onward with Day 3...
1) Choo Choo Clickety-Clack! - Margaret Mayo (Author) & Alex Ayliffe (Illustrator)
This is pretty much a textbook example of a non-fiction picture book - giving children information about various types of transport in a story-esque way, From trains to planes to buses to boats, this is bright and colourful and covers a whole host of vehicles that children love to read about.
Chris says: The great thing about books like this is being able to get your children excited about so many different types of vehicles. We had great fun making noises and pretending to be each type in the book, and it's similar to reading a book about animals in that respect. Not a calming end to the evening by any means, but a very fun one!
Josh says: I liked thinking about all the different vehicles that we might travel on, especially the ferry (
N.B. He's looking forward to our first trip on a ferry over to Calais this year!
)
Xander says: TRAIN! PLANE! BOAT! (
N.B. At one point we lost Xander as he got over-excited going up and down the stairs pretending to be a ski-lift
)
2) I Want My Mum - Tony Ross (Author & Illustrator)
I'm pretty sure you must be familiar with
I Want My Potty!
by Tony Ross, which is a classic story from the 80s of the Little Princess who is learning to potty train. It's particularly memorable for Tony Ross' artwork, and this is another great example of the author combining humour and a gentle message for children about life (i.e. not to be afraid of trying things without the comfort of your mother). I'm sure this would feel familiar to many parents out there!
Chris says: The image of the Little Princess getting scared without her mother is obviously shown in a humorous way, but it's definitely something that children will worry about, and this is a good chance to talk to them about it while showing why they might have a good time if they can let go of those worries. Also, the final image of the queen missing the Little Princess is DEFINITELY one that parents will relate to!
Josh: I liked how the princess end up enjoying the sleepover, video, and crisps, and my favourite bit of all the stories tonight was when the queen missed the princess at the end when she was holding Gilbert (
N.B. Gilbert was the Little Princesses teddy bear - I was very impressed at Josh's observations as I'd missed this bit yet he found it hilarious!
)
Xander: [I liked] the princess.
3) Here Come The Aliens! - Colin McNaughton (Author & Illustrator)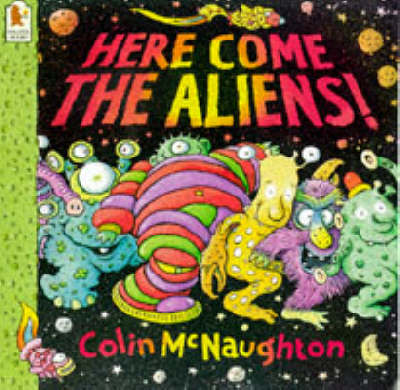 A wonderfully colourful array of aliens coming to attack Earth, told in marvellous rhyme, adding up to a brilliantly imaginative story that's enough to inspire children and adults alike to look to the sky for signs of invaders! It's incredibly impressive that Colin McNaughton came up with this many different aliens for the story, when it's difficult enough at times to come up with just one original picture in my head, and it also has soon giggles for grown ups at the languages that the aliens speak partway through.
Chris: What a wonderful chance to talk to children about all the different types of alien! Excellent rhyming as well which flows brilliantly and makes for very easy and exciting reading.
Josh: I liked seeing the children scare away the aliens, and I especially liked the alien with six eyes.
Xander: I like the aliens.
So, to summarise Day 3
Definitely an evening's reading dominated by memorable images! From favourite vehicles to worried parents to a plethora of aliens, there was far more than just a memorable storyline to talk to with the children tonight. It illustrates (no pun intended) perfectly just why a picture book can be so fantastic at firing up a child's imagination, and why the illustrator is just as key a part of the book as the author - or equally, if the author is also the illustrator, why you should let their imagination run wild in the creative process?
Books Read: 9/1000 (0.9%)